Twin Coast Cycle Trail
(Pou Herenga Tai)
The Twin Coast Cycle Trail (Pou Herenga Tai) provides a fantastic cycling experience that opens up beautiful rural scenery, is steeped in history and incorporates Maori cultural teachings and experiences.
Stretching between the Bay of Islands in the east to Hokianga Harbour in the west, this journey is rich in history and local hospitality.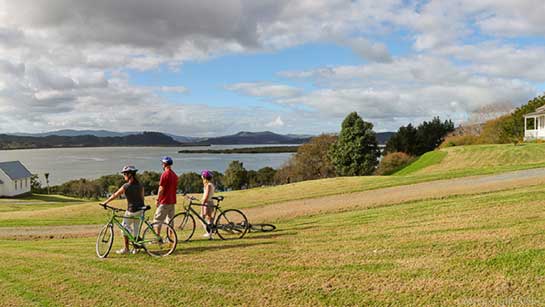 Photo from Destination New Zealand

While experiencing this unique historical journey, traversing the earliest origins of both Maori and European settlement and occupation, stay in our comfortable accommodation and enjoy great food in our Heritage Hotel. Experience traditional New Zealand hospitality at is finest - Ohaeawai Hotel.
Coastal views, wetlands, native forest and rolling farmland can all be enjoyed on this coast-to-coast ride between the popular Bay of Islands and peaceful Hokianga Harbour. Following smooth rail trail, dedicated cycle paths and country roads, it also offers an opportunity to visit historic and cultural sites while enjoying the sub-tropical climate for which Northland is famous.
The first section to be opened, was the former railway corridor from Okaihau to Kaikohe. This is a predominantly downhill run and is suitable for bike riders of all ages. Both family and experienced trail riders enjoy this section of the cycle trail which features an 80m long rail tunnel dating back to 1915, rich Maori history and views across Lake Omapere.

Video from Destination New Zealand
Featuring on- and off-road riding, this trail is generally flat and wide with a smooth surface and gentle climbs, making it suitable for riders of most abilities.
The entire Twin Coast Cycle Trail from Horeke to Opua was completed in early 2017. It is possible to ride the trail in either direction.

There are many rewarding rides. A deservedly popular option is the 14km return trip from Opua, near Paihia in the Bay of Islands. Starting at the marina cafe where there are bikes for hire, this super-easy trail follows an old railway line alongside a wetland and across an impressively restored old bridge to the charming wee station at Taumarere. The Bay of Islands Vintage Railway runs occasionally between the station and Kawakawa.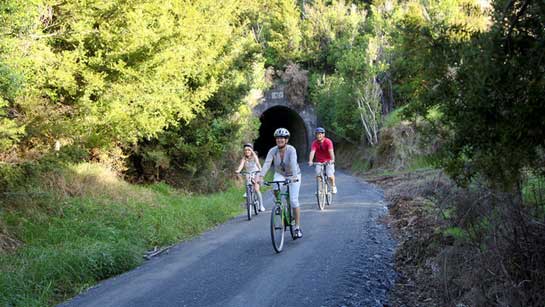 Photo from Destination New Zealand

Famous for its quirky Hundertwasser toilets and offering numerous other visitor services, Kawakawa is the setting-off point for a 6km stretch to Lucas Road. Another 7km section following the old railway line from Mangakahia Road (near Kaikohe Airport) to Kaikohe is also open.
The last section to be completed is the 25km from Okaihau to Mangungu Mission Station on the Hokianga Harbour. This section of the trail is Grade 3 (the most challenging) with the other sections all Grade 1 or Grade 2.
Part of a Ministry of Tourism nationwide initiative to build a network of cycle trails, the NZ Cycle Trail is designed to provide inter-connected trails across New Zealand. The Twin Coast Cycle Trail provides one of the first sections of the nationwide cycleway to become operational.

Photo from Destination New Zealand
---
$3 million to Northland cycle way »
---
From Northern News - 27 July 2011
Far North cycle trail wins thumbs-up
A cycle trail expert has given a big thumbs-up to a coast-to-coast cycle trail being developed in the Far North. Jonathan Kennett has designed cycle trails and co-written eight editions of the best-selling guidebook Classic New Zealand Mountain Bike Rides.He cycled the Okaihau to Kaikohe section of the Pou Herenga Tai – Twin Coast Cycle Trail in May and says the standard of track is equal to that of the Otago Rail Trail.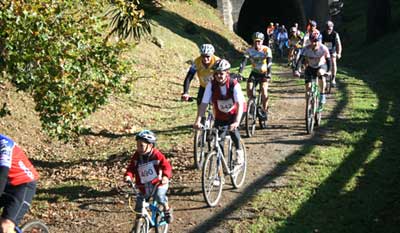 "The finishing work they've done at providing a really great smooth, wide surface along the old railway line is absolutely excellent." Mr Kennett says the 13km trail should become a popular cycling attraction because its gentle gradient makes it an easy ride for cyclists of all ages and fitness levels. "They've built a trail that anyone can ride and that's the secret to building a great tourism product."
He is keen to cycle the trail again when poupou statues and interpretation signs have been added and newly-planted native trees are bigger. "I had a great ride last time I was there, but next time I go it'll be even better." He predicts the trail will become a national cycling destination when it is extended to 85km and people can cycle from Horeke to Opua.
"Aucklanders will flock to the trail no matter what length it is, but people further south won't unless there is at least one to two days riding, because it's a long distance to travel," HE SAYS. The carved poupou along the trail will also set it apart from other trails that have wilderness, mining or rail heritage themes. "There is no other trail that can present unique Maori-Pakeha relationship and history as well as the Northland trail."